Low Cost Automation Tutorial
#014 Usage examples of Locating pins / Guide : Locating of Various Types of Work
Category : Locating Technology
October 2, 2009
Locating techniques are shown here with silicon wafers (thin round disc) and printed circuit boards (thin rectangular boards) as examples.
(1) Hints on how to determine the locating techniques
By properly selecting the following criteria, locating techniques for a variety of work can be determined.
a)
Select locating pin material and shapes based on understanding the work's specific characteristics.
example: hard, soft, easily scratched, easily cracked/broken, deformed/warped, electro-statically damageable, cannot be tested ...
b)
Determine if the work itself possesses any reference feature.
example: has pilot holes for locating, and the holes are indexable from the reference feature
c)
Select locating pins/guides that match the methods for in and out-feed of work.
(2) Examples of locating various work pieces
Example - 1: Locating silicon wafers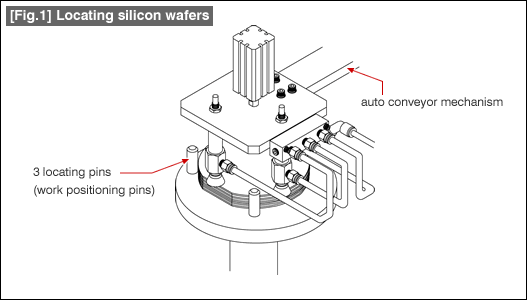 Characteristics of the work piece
| | | |
| --- | --- | --- |
| | ・ | Thin disc shape with a partial notch. |
| | ・ | Material is hard, and the disc's side could cause wears on the location pins. |
| | ・ | Used in clean environment and cannot tolerate rust. |
| | ・ | Tips is spherical shaped. |
| | ・ | Tip is spherical shaped. |
| | ・ | Work is located on it's sides. |
In-feed and out-feed method
| | | |
| --- | --- | --- |
| | ・ | Work is automatically located so only the top side needs to be open for access. |
Example - 2: Locating a PC board with pilot holes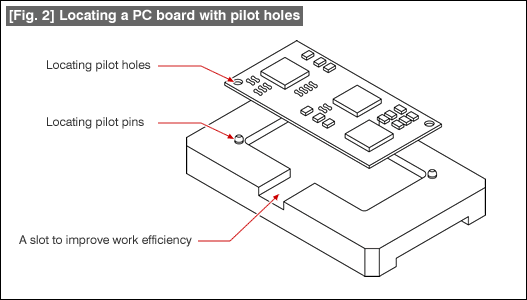 Characteristics of the work piece
| | | |
| --- | --- | --- |
| | ・ | The work piece contains glass fiber and the locating pins will gradually wear. |
| | ・ | Select locating pins that match the pilot holes. |
| | ・ | Use a design that makes locating pin replacement possible. |
| | ・ | Provide a slot on the fixture (work efficiency) |
Locating reference
| | | |
| --- | --- | --- |
| | ・ | Locating holes provided on the PC board. |
in-feed and out-feed methods
| | | |
| --- | --- | --- |
| | ・ | Give considerations to improved work efficiency since the operation will be manually performed. |
Example - 3: Locating a PC board without pilot holes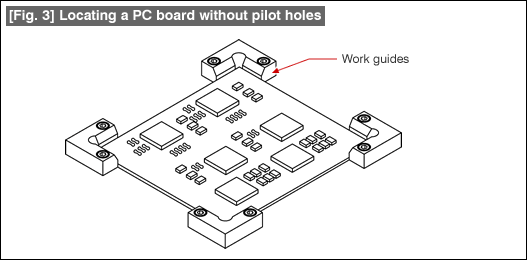 Characteristics of the work piece
| | | |
| --- | --- | --- |
| | ・ | ame as Example - 2 |
| | ・ | Use plastic to avoid short circuits and electrostatic damages. |
| | ・ | Select "Work Guides" as the locating method. |
| | ・ | Select plastic for "Work Guides" material. |
| | ・ | (Others omitted) |
Locating reference
| | | |
| --- | --- | --- |
| | ・ | Select "Work Guides" instead of pins since the PC board is located on external features. |
In-feed and out-feed methods
| | | |
| --- | --- | --- |
| | ・ | (Omitted) |