HOME
>
Press Dies Tutorial
> #029 Basics of Die Structure (4) Structure of Hole Punching Dies - 1 (Hole Punching Die of the Movable Stripper Structure)
#029 Basics of Die Structure (4) Structure of Hole Punching Dies - 1 (Hole Punching Die of the Movable Stripper Structure)
Category : Shearing work
February19, 2010
| | | |
| --- | --- | --- |
| In hole punching work, the operation is made after the material is placed on a die. The scrap of hole punching falls down as is shown in Fig. 1. In other words, the scrap passes through the die and falls down. | | |
The material above the die tries to jump up when pressed by the punch. If the material is not kept pressed, it is likely that the flatness of the product becomes poor. In order to ensure the flatness of the product, the work should be carried out while pressing down the material. The movable stripper structure shown in Fig. 2 is a die structure that satisfies this condition.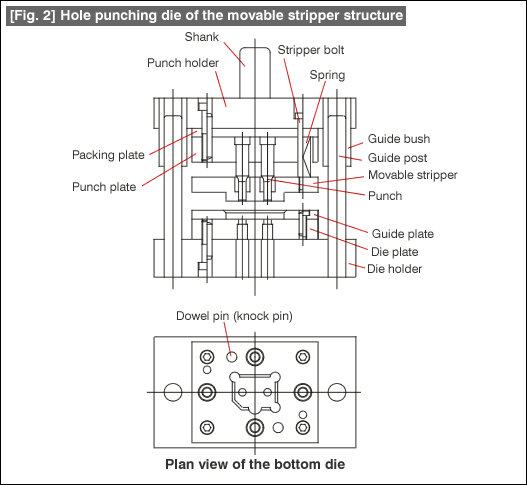 The condition during working will be explained below.
In the movable stripper structure, the material above the die is kept pressed down and fixed by the stripper and then the hole punching operation is performed. This prevents deformation of the material due to the forces during the hole punching operation. Although the product can get deformed when the punch that has fully penetrated the material is withdrawn (which is called stripping), there is no need to worry about this because the pressing is being done by a movable stripper.
The movable stripper is expected to have two functions, that of pressing down the material and of stripping. Here, we will be concerned about the strength of stripping by the movable stripper. If only stripping is considered, a force of about 5% of the hole punching force will be sufficient. The force of pressing down the material should be as strong as possible. However, generally speaking, very often a force up to about 30% of the hole punching force is set for this force.
Since the formed product remains on the die, recovering the product will have to be done either by an operator using work tools, etc, of by blowing off the product using compressed air.
In the case of a thin punch, for the purpose of preventing the punch from breaking and to improve the relationship between the punch and the die, the tip of the punch is also guided by the movable stripper. This form is called the "punch guiding by stripper".
The drawback of the movable stripper structure is that the material can get scratched because it is being pressed by the stripper. It is necessary to carry out the work while taking care about penetration of dirt or dust from the outside, and about undulations, etc., in the die surface and in the stripper surface.
For the sake of reference, during hole punching work, the dimensions of the hole punching punch are the same as the dimensions of the product. The dimensions of the hole punching die are set to be larger than the dimensions of the hole punching punch by the amount of the clearance.