HOME
>
Press Dies Tutorial
> #038 Basics of Die Structure (20) Structure of Drawing Dies: Blanking and Drawing Dies
#038 Basics of Die Structure (20) Structure of Drawing Dies: Blanking and Drawing Dies
Category : Drawing and Forming Work
April23, 2010
A blanking and drawing die is a compound die that combines blank punching and first drawing.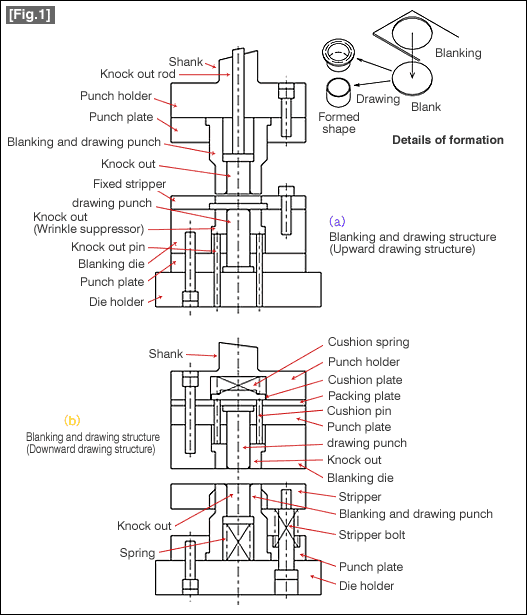 The upward drawing structure is shown in Fig. (a).  While a fixed stripper structure has been shown in this figure, it is also possible to have a movable stripper structure in which the stripper is provided in the top die. The content of forming is shown in the figure marked "formed shape". The blank is punched using the blanking and drawing punch (compound part: this is the punch for blanking as well as the die for drawing), and subsequently, drawing is done by the continuing stroke. The drawn product is ejected from the top die by the knock out mechanism near the top dead point.
The knock out in the bottom die has the function of making sure that the product does not stick to the punch and of wrinkle suppression.
The downward drawing structure is shown in Fig. (b). This is not suitable for longer product drawing because of the spring space.
In the case of shallow drawing, it is possible to make this a drawing and dropping structure by removing the knock out and spring in the bottom die and opening a hole in the die holder for letting the product pass through it.
The drawback of the blanking and drawing structure is in maintenance. Maintenance will have to be carried out when burrs start appearing because of the cutting part of blanking is worn out or damaged. Although the damaged part is ground again and the cutting edge is created again, since even the rounded part of the drawing die is ground, it will be necessary to reconstruct the rounded part of the die. Every time maintenance is carried out, if the reconstruction of the die is not made with the rounding of the same shape, there will be changes in the drawing thereby causing defects in drawing. In addition, since the structure is weak, if any mistake is made in the press operation, the die breaks immediately. This is also another drawback.
Although this type of compound structure has drawbacks, its attraction is that the process can be made short. If an upward drawing type blanking and drawing structure is used, it is possible to carry out compound forming operation of blanking → drawing → hole punching.