HOME
>
Press Dies Tutorial
> #106 Fundamentals of Press Die Structure Design (15) Direction of Tightening Fixing Screws
#106 Fundamentals of Press Die Structure Design (15) Direction of Tightening Fixing Screws
Category : Die Design
December16, 2011
The operations of assembling and disassembling a die vary depending on the method of affixing the parts constituting the die.
Fig. 1 shows an example of affixing the parts of a die without any considerations. While there are three punches, the method of fixing is different in each of them.
Removing the punch (a) is not possible unless the fixing screw and the dowel pin are detached, and the die is disassembled.
The punch (b) is removed by detaching the stripper bolt, detaching the stripper plate, inverting the top die, and detaching the punch fixing screw.
The punch (c) can be removed by detaching the stripper bolt and the stripper plate, and then detaching the punch without having to turn the top die upside down.
In this manner, if there are many methods of fixing present in a single die, the operations become confusing leading to problems.
It is good to design a die considering the nature of the die and with aim towards unifying the assembling and disassembling methods.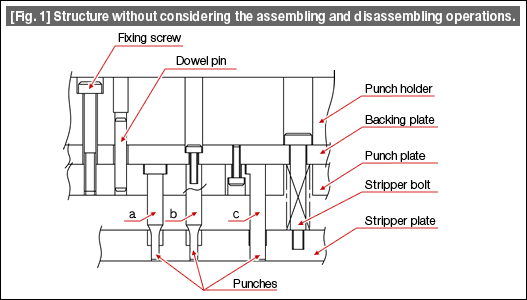 Fig. 2 is a structure in which the punch is fixed from the punch holder side. This is the method of fixing a punch seen very often in the case of dies having punches that are prepared by wire cut discharge machining. A round punch with a flange is fixed considering the ease of detaching it.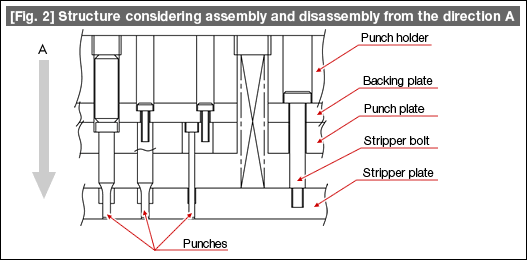 Fig. 3 is a structure that makes attaching and detaching the punch easy from the stripper side. When the punch material is an ultra hard alloy, very frequently fixing it using a key is common, and hence this structure is used very often.
The stripper bolt is a part that is related to the method of fixing a punch. It is good to match even the stripper bolt with the method of fixing the punch. There are some people who are afraid of using the stripper bolt (internal thread type) of Fig. 3 because it drops out, but there is no problem unless somebody has forgotten to tighten the bolt properly. Even measures for preventing loosening of the bolt have progressed, by using such improved bolts it is possible to obtain a still higher feeling of assurance.