#064 Method of Using Standard Components (13) Round Punches - 2
Category : Die Design
December10, 2010
In the case of the shoulder punches shown in Fig. 1, the standard is such that the parts other than the shank diameter (D) can be changed freely within a certain range.

Even the tool tip shapes can be many. The materials are SKD11 equivalent, SKH51 and powder high speed steel, ultra hard alloys, and it is possible to select the lapping finish of the tool tip part, TiCN and DICOAT processing as the surface coating. It is possible to select low cost components for small quantity production to long life components.
The changes shown in Fig. 2 are available for meeting different applications. - Items with shortened overall lengths so that they can enter narrow parts inside dies
- Small diameter punches that can work in close proximity to small diameter holes in a narrow range.
- Punches made strong against breakages considering the punching of thick plates.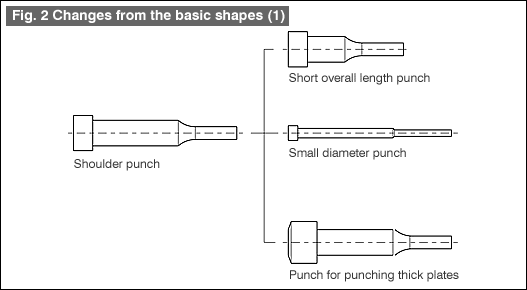 The changes related to the tool tip diameter and length are shown in Fig. 3.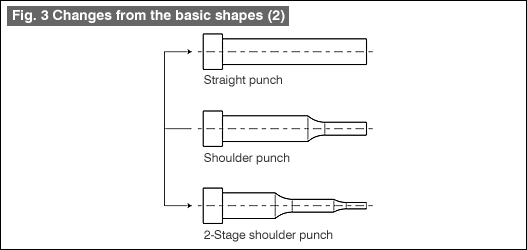 There should be no problem even if the tool tip diameter and the shank diameter are the same, and such a punch is the straight punch. On the other hand, since even shoulder punches cannot be used because the diameter is small, the number of stages has been increased and the strength is maintained in the 2-stage punch.
The variations in the method of fixing a punch are shown in Fig. 4.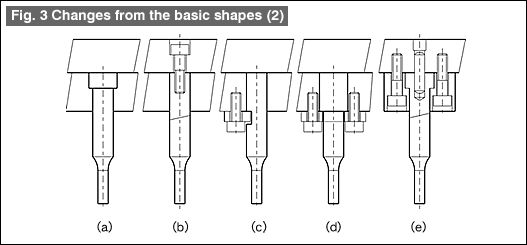 In addition to the methods of fixing using flanges, screws, and keys, there is a method using a type with a positioning knock as shown in Fig. 4(e). When an attempt is being made to fix an independent punch to a certain part, it is common to think of embedding the punch inside a small block, and installing that block using a knock pin and screws. At this time, the punch positioning accuracy is dependent on the accuracies of the punch hole in the block and knock hole. If the punch and the knock pin are not embedded, it is possible to insert that knock pin directly inside the knock pin hole of the plate, and the accuracy of positioning the punch increases. Since it is sufficient for the block to have only the role of preventing the punch from coming out, a knock hole becomes unnecessary, and it is sufficient to have only holes for the fixing screws.
As described above, round punches have to be used appropriately by making modifications according to the application and purpose of use.
It is also possible to use a shoulder punch by carrying out additional machining. However, if standard components are used as they are while cleverly utilizing various standards, it is possible to reduce the cost and to shorten the time required.