HOME
>
Press Dies Tutorial
> #073 Method of Using Standard Components (22) Stripper Guide - 1: Role of a Stripper Guide
#073 Method of Using Standard Components (22) Stripper Guide - 1: Role of a Stripper Guide
Category : Die Design
March18, 2011
As shown in Fig. 1, the position adjustment of the relationship between the punch and the die is made using a guide for the die set and an appropriate clearance is maintained between them.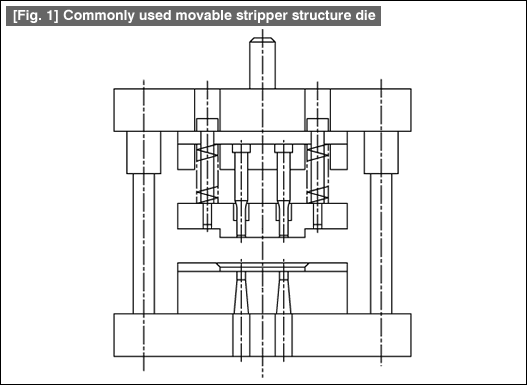 A die set makes it easy to establish the relationship between the punch and the die, and also makes it easy to install the die in press machine. Compared to the age in which die sets were not used, dies have brought in great changes. In a die with the movable stripper structure shown in Fig. 1, the material is kept pressed by the stripper and the pressing is done so that it does not get deformed.
The die structure is used very often in product formation applications that require relatively accurate shapes. In accurate formation, very often the formed shape becomes finely detailed, and since even the punch shape becomes weak, one would desire to strengthen the punch. As an idea for strengthening the punch, as is shown in Fig. 2, a lot of people thought that it becomes difficult for the punch to break if the weak tip of the punch is guided by the stripper and they have implemented this structure.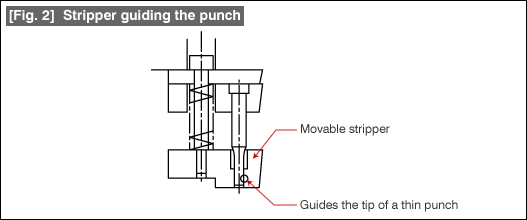 However, in the structure of Fig. 1, there is a movement of the stripper as shown in Fig. 3, and the stripper damages the punch that it is guiding.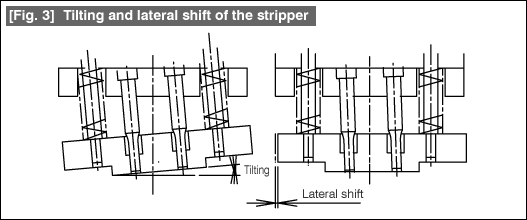 Since the original function of the stripper is to peel off the material that has got adhered to the punch, although there was no problem even if did some slightly strange movement, but in order to guide the tip of the punch, it is necessary that the stripper maintains horizontality and only carries out up and down movement, a stripper guide was placed between the stripper and the punch plate as shown in Fig. 4.
The relationship between the top mold and the bottom mold is maintained by the guide post bush of the die set, and since the stripper guide only restricts the behavior of the stripper it is also called a "sub-guide". When one starts using the stripper guide, the die life gets extended compared to the conventional dies, stable press operation is obtained, and in addition, by making the stripper guide penetrate up to the die as shown in Fig. 5, the accuracy of the die becomes better, and this has become the mainstream punch and die structure for precision forming.