HOME
>
Press Dies Tutorial
> #079 Method of Using Standard Components (28) Pilot - 3: Relationship Among Material - Material Guide - Pilot
#079 Method of Using Standard Components (28) Pilot - 3: Relationship Among Material - Material Guide - Pilot
Category : Die Design
May27, 2011
Pilots are used for the purpose of correcting to the proper state the material position before carrying out the press operation (see also, Pilot (1) of No. 95). In general, as is shown in Fig. 1, the pilot is pushed inside the hole thereby correct the shift. At that time, the amount of shift between the center of the pilot and the center of the hole is called the correction amount. The correction amount is proportional to the material thickness and the pilot diameter. The minimum actual dimension of the pilot diameter is about 1mm diameter.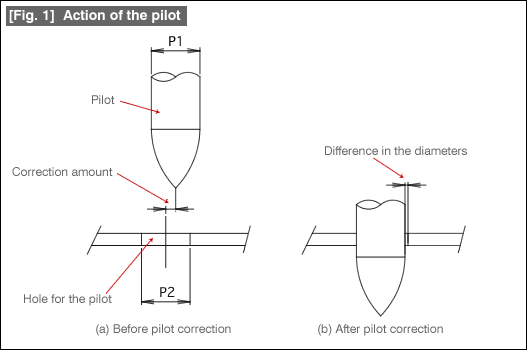 The pilot diameter and the hole should not be of the same dimensions. This is because if they are the same, the pilot will pull up the material after piloting it to the correct position. In general, (see Fig. 1(a)) the pilot diameter (P1) is made at least 0.01mm smaller than the hole diameter (P2). When the plate thickness of the material is about 1mm, the diameter is made about 0.02 to 0.04mm smaller. This difference in the diameters becomes the positioning accuracy. As shown in Fig. 1(b), the pilot will be in a condition in which it butts against the hole and will never be at the center of the hole, and the difference in the diameters appears as a shift. This becomes the limiting accuracy of the product. However, it is very rare that only one pilot is used and since many pilots are used, these pilots interfere with each other and the error will be smaller than when one pilot is considered. However, if the number of pilots is made too large, due to the effect of the mold machining errors, etc., the material pulling up becomes frequency thereby causing problems.
The details related to material positioning are shown in Fig. 2.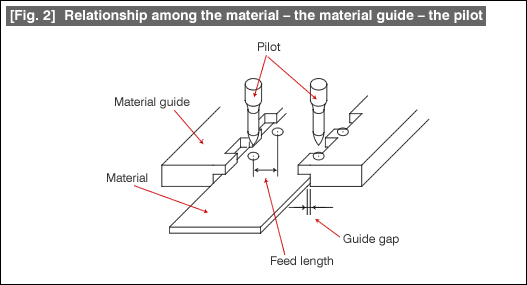 The material is initially guided by the material guide. At this time, the relationship between the material guide and the material, that is, the guide gap is determined predicting the width tolerance, the sideward bending, etc., of the material. Even in the worst condition, it is ensured that the material passes through inside the guide. The guide accuracy at this time cannot be said to be in a state in which the product accuracy can be satisfied.
The feed length is set to the prescribed length in the feeding device, and the material is fed accordingly. The fluctuations in the feed length at this time are mainly the accuracy of the feeding device, and these fluctuations need not be within the product accuracy.
The role of the pilot is to correct the material which is in such a state to a state in which the product accuracy can be satisfied.
The material guide is a primary guide that supports the material within the range of the correction amount of the pilot, and thereafter the pilot takes over and can also be called a secondary guide for satisfying the product accuracy.