#094 Fundamentals of Press Die Structure Design (3) Method of Using Dowel Pins - 1
Category : Die Design
September16, 2011
Dowel pins are used very frequently for the positioning of die components. A common method of using dowel pins is to determine the position by lightly pressure fitting a dowel pin in two components. Similar to screws, the diameter of the dowel pin is determined according to the size of the die component.
Fig. 1 shows the relationship between the plate thickness and the diameter of the dowel pin. In general, there is a correlation between the plate thickness and the area, and it is assumed that a plate with a large end surface relative to the thickness is not used.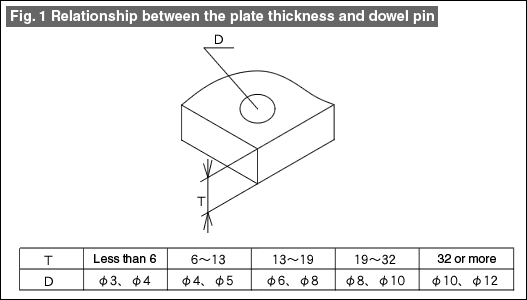 Fig. 2 and Fig. 3 show the dimensions from the end surface of the plate or block taking the dowel pin size as the reference. Although a dowel pin diameter of 12 mm has been shown in the table, there are dowel pins with a diameter of 13 mm also. These dowel pin diameters of 12 mm and 13 mm are created from the standard value of 12.5 mm. Which one of the two diameters to use is up to the liking of the user. Although recently the use of 13 mm is increasing, it is possible to use either of these two diameters.