#093 Fundamentals of Press Die Structure Design (2) Method of Using Screws - 2
Category : Die Design
September 9, 2011
It is important to carefully consider screw placement when designing dies.
There is the problem of whether to make the screw size large and make the number of screws small, or to make the screw size small and make the number of screws large. See No. 285 regarding this problem.
After the screw size has been decided, we have to think what should be the spacing between screws.
Fig. 1 shows the relationship between the screw size and the screw spacing. Consider that the spacing is 10 times the screw size. Since there is no clear standard regarding the screw spacing, it is convenient in the case of parts like screws to take this as an easy to understand method. (Strictly speaking, the screw spacing will have to be determined taking into account the amount of plate deformation and the fastening force, etc., but since realistically this is difficult, the spacing is usually decided by intuition based on experience.)

Fig. 2 shows the dimensions related to screws. Although these have been stipulated in JIS also, it is good to decide on your own company's standards. Consider that the following is one such example.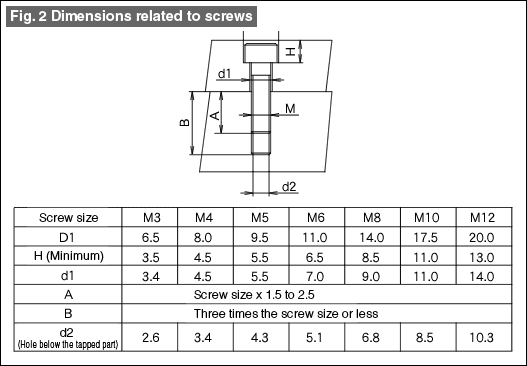 When tapping the holes in the plate, there are the problems of determining the dimensions of the hole below the tapped part and the depth of tapping. When a tapped part that is too deep is specified, the effect is not much but the machining becomes difficult. Determine the hole below the tap and the tap depth that is easy to machine the tap, and make the machining work economical.