#122 Terminology and Surroundings (16) Names of Different Parts of Bending Shapes
Category : Terminology
April27, 2012
Sometimes it is difficult to refer by names to detailed parts when investigating a product of bending. The names of some parts that are convenient if remembered are given below.
[Fig. 1] shows the names related to the product shape.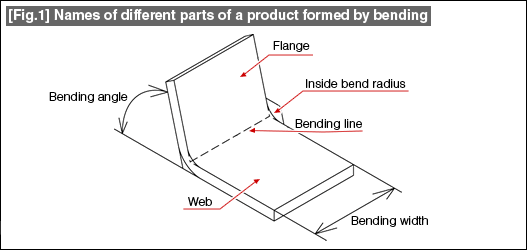 | | |
| --- | --- |
| (1) | Web: The shape of the part that is being pressed by a pad during L-bending or U-bending is called a web. |
| (2) | Flange: This is the name for the part that is bent lifted upward. In the case of V-bending of the plate both sides will become flanges. |
| (3) | Inside bend radius: this is the rounding generated on the inside of the bend. There is a minimum value for this since cracks will be generated if this is too small. This is called the minimum inside bend radius. |
| (4) | Bending angle: This is the angle from the web surface. This is not the angle on the side of the bending radius. This bending angle is used while calculating the development. |
| (5) | Bending line: This is the line of intersection between the web surface and the flange surface. |
| (6) | Bending width: This is the width corresponding to the length of the bending line. |
[Fig. 2] shows the names of different parts of a bending die.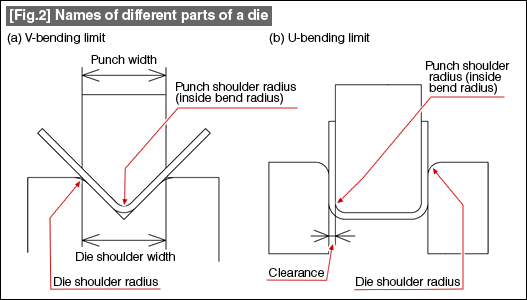 In V-bending:
| | |
| --- | --- |
| (1) | Die shoulder width: The width between the lines of intersection of the V-shaped inclined surfaces and the top surface of the die. |
| (2) | Die shoulder radius: This is the radius of the chamfer provided at the die shoulder. Normally this is made equal to the die shoulder width. |
| (3) | Punch width: This is the width of the punch corresponding to the die shoulder width. Normally this is made equal to the die shoulder width. |
| (4) | Punch shoulder radius: This is the radius of the chamfer provided at the tip of the punch. This will be the same as the inside bend radius of the product. |
In U-bending:
| | |
| --- | --- |
| (1) | Die shoulder radius: This is the radius of the chamfer provided at the die shoulder. Normally, this is made equal to 2 to 4 times the blank plate thickness. The blank is bent while sliding along this surface. |
| (2) | Punch shoulder radius (inside bend radius): This is the radius of the chamfer provided at the tip of the punch. |
| (3) | Clearance: This is the size of the gap on one side between the punch and the die. Normally, this is made equal to the nominal dimensions of the blank plate thickness. |