#132 Design of Blanking Dies (5) Design of Punch Holders
Category : Shear Forming
July27, 2012
A punch holder is a part that holds the top die. Except for special cases (such as directly providing a shank to the punch, etc.), a constituent part of the top die is mounted in the punch holder. A punch holder also serves as supporting the rigidity of the top die. In the case of a die having a structure in which a spring is used in the top die, the length of the holder may also be adjusted in some cases to match with the length of the spring. In the case of large dies in which the mounting of the top die to the press machine becomes unstable with only a shank, the mounting is done using a punch holder. Fig. 1 shows some method of mounting.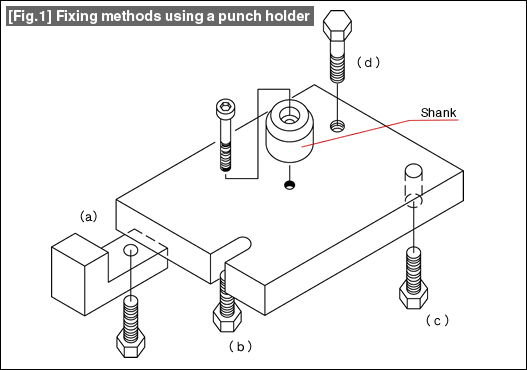 The method (a) assumes that the fixing is done using a clamp. The punch holder remains in the shape of a plate, and there is nothing addition to be done. The method (b) is one in which the fixing by a bolt is done using a U-shaped groove. It is necessary to design the U-shaped groove to match with the size of the bolt. The method of fixing (c) is one using a bolt and a hole drilled in the holder. The method of fixing (d) is one using a bolt and a threaded hole drilled in the holder. The above are the most commonly used methods for fixing a punch holder.
In the case of the methods (a), (b), and (c), the preparations become easy if the thickness of the punch holder is standardized. In the case of the methods (b), (c), and (d), it is necessary to determine the position of the U-groove or the position of the hole to match with the specifications of the press machine. The thickness of a punch holder is a very important factor. Its periphery can be left as it is in the welded state. When it is necessary to align the center of the press machine and the center of the die, it is convenient if a positioning shank is affixed.