#146 Design of Hole Punching Dies (6) Stripper Guide of Hole Blanking Punches
Category : Shear Forming
February22, 2013
In hole blanking operations, very often a movable stripper is used with the aim of achieving flatness of the product, and a movable stripper structure is established for hole blanking. When the hole diameter becomes small in hole blanking operations, even the punch becomes weak, and it becomes difficult to maintain the relationship with the die. In the movable stripper structure, as is shown in Fig. 1, since the tip of the punch is always inside the stripper plate, if the hole through which the punch passes is made small, it is possible to suppressing wavering of the punch, and it is possible to stabilize the relationship between the punch and the die. This is called "stripper guiding the punch" (this is shortened to stripper guide in the following). If stripper guiding is done in a die with an ordinary movable stripper structure (Fig. 1), the behavior of the stripper plate will be reflected in the punch. This means, the effect on the punch of the horizontal movements or inclinations of the stripper plate.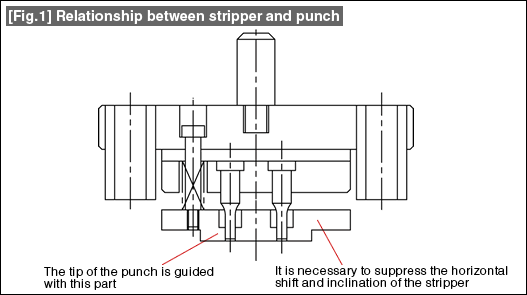 In order to restrict the movement of the stripper plate, an inner guide (stripper guide pin) is provided as is shown in Fig. 2.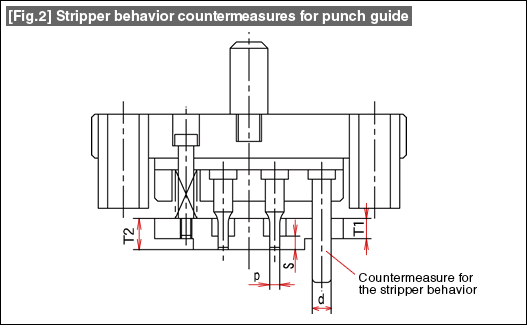 The design of the inner guide is made considering the relationship between the diameter (d) of the inner guide and the thickness (T1) of the stripper plate. The minimum value is d = T1. Any value lower than this makes the punch weak against inclinations. Very often a step is provided in the stripper plate considering the relationship of the stripper plate with the nest. Care should be taken because the relationship between the diameter and the thickness may be disturbed due to this.