Low Cost Automation Tutorial
#066 Force Directional Control and Multi-position Control by Air Cylinders
Category : Pneumatic Drives
February18, 2011
For multi-action cylinders composed of multiple air cylinders, there are Dual Rod Type, Multi-position Type, Dual Type, Lateral Load Resistant Type, and Long Stroke Type. Discussion here will be on force direction control, 2 and 3 step controls with a multi-action cylinder ([Fig.1]) constructed with two back-to-back connected cylinders.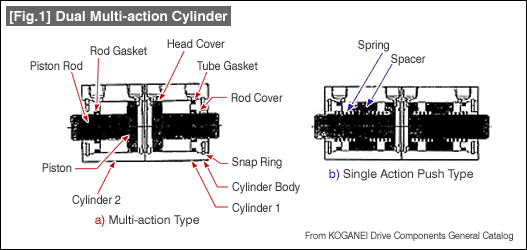 (a) Multi-point Positioning Example with Force Direction Change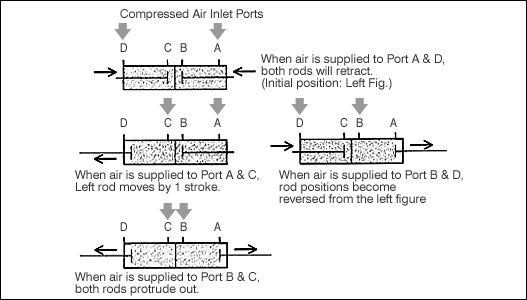 The dual multi-action cylinders are typically used where large forces are needed, or space is constrained in radial but not in axial directions.
(b) Positioning Methods of Other Air Cylinders
-
Air Cylinder with a Brake
Types of air cylinders that can be stopped at arbitrary positions
-
Air Cylinder with a Positioner
Types of air cylinders with position sensors that can be positioned proportionally to input signals