Low Cost Automation Tutorial
#333 Know-how on automation: Pressurized heating technology - 5: Multilayer pressurized heating process technique
Category :
March23, 2018
The pressurized heating process in mass production requires a processing method where the same production pitch as those of the previous and subsequent processes can be maintained without having a buffer for storage.This section describes multilayer pressurized heating process technique.
(1)Multilayer pressurization process technique
1)Multilayer pneumatic pressurization method for rigid body
・In the case of a product consisting of two panes of bonded glass materials together, the same production pitch as those of the previous and subsequent processes can be maintained by laminating several slices of bonded glass materials.
・In this collective pressurization process in the composite fabrication, uniform contact stress can not be applied to each layer of the bonded glass body because of plate thickness variations of the bonded glass materials (Fig. 1).
・The plate thickness variations of bonded glass bodies can be eliminated by inserting spacers (pressure buffer sheets) having the same effect as that of the pressure buffer material discussed in D549, between the bonded glass bodies in order to absorb the variations to maintain even pressurization (Fig. 2).
・The requirements for the material of the spacer are as follows: (1) thin and uniform in terms of plate thickness, (2) free from local hardness or variations, (3) durable (tolerable for repeated use), (4) free from producing dirt and grime, (5) free from being electrically charged, (6) cost-effect.
・"Paper" spacer is possible for prototyping, but it is not appropriate for mass production because of issues in points (3) and (4) above.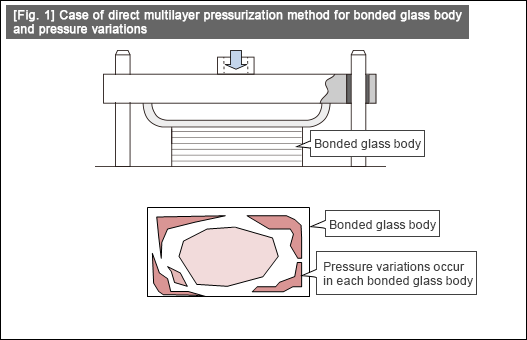 ・If the quality of pressure buffer sheet used for laminating pressurization is poor and produces local hardness, or if foreign substance is attached to the sheet due to static electricity, contact stress is applied locally to the section, which may cause the product to be defective.
2)Multilayer pressurized heating method for rigid body
・When a heating process is required for the case of Fig. 2, the property of thermal conduction also needs to be considered for characteristics of the pressure buffer sheet.