HOME
>
Press Dies Tutorial
> #091 Fundamentals of Steel Materials for Dies (10) Materials for the Main Parts of Dies - 2
#091 Fundamentals of Steel Materials for Dies (10) Materials for the Main Parts of Dies - 2
Category : Die Design
August26, 2011
Fig. 1 and Fig. 2 show dies with an integrated cast structure. Since the cast structure allows the preparation of a large shape as a single piece, it can be prepared more easily compared to the preparation using steel plates.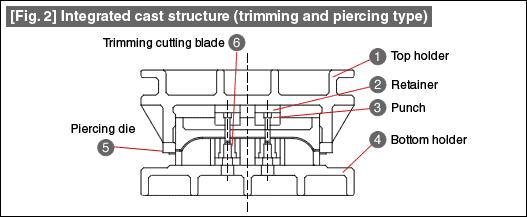 When the material to be formed is a thin plate and the production volume is low, and even in the case of blanking, bending, or drawing, the material frequently used for casting is the gray cast iron FC250 or FC300. This is used for all the die parts such as punches, dies, and pads, etc.
When the thickness of the material to be formed becomes higher, or when the production volume increases, or when the strength is of concern, a spherical graphite nodule cast iron such as FCD600 is used.
In the case of cast iron dies for blanking, SC450 or another material is welded to the cutting edge part. In the case of large volume production of the drawing type or shape forming type, SC450, etc. is used after flame hardening. When there is concern about using cast iron (gray cast iron, spherical graphite nodule cast iron) for the trimming type, etc., a material such as SC450 is used as it is.