#092 Fundamentals of Press Die Structure Design (1) Method of Using Screws - 1
Category : Die Design
September 2, 2011
A die is constructed from many components which are held together with screws. Although screws are very common, the method of using them can be quite confusing. Here, we explain how to select the screw size based on the plate thickness and the dimensions from the end surfaces.
For information on the tightening force and torque of a bolt, refer to the descriptions given in the "Technical Data" which is an appendix to the Misumi catalog "Standard Components for Press Dies" and use that information for reference.
Here, we define screw as a hexagonal bolt with a hole.
Fig. 1 shows the relationship between the plate thickness and the screw. In general, there is a correlation between the plate thickness and the area, and it is assumed that a plate with an extraordinary large surface area relative to the thickness is not used.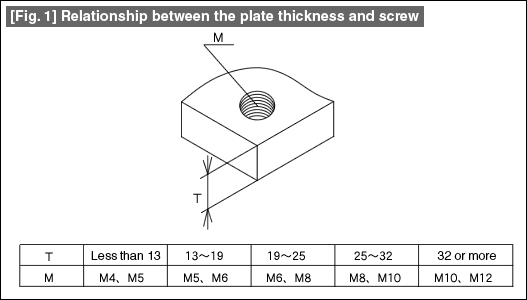 Fig. 2 and Fig. 3 show the dimensions from the end surface of the plate or block taking the screw size as the reference. Assume that the material is steel that is not hardened. For materials such as cast iron which is brittle or hardened steel which can break easily, it is better to use values larger than those of being shown.


When block size needs to be minimized, place a screw, used as a stopper and with sufficient strength, at distance equal to the screw diameter from the end surface.
This would be the minimum dimension of screw placement.
In ordinary dies, M3 screws are avoided because of problems in strength.