Low Cost Automation Tutorial
#078 Working with Linear Bushings - 5: Linear Bushing Application Example on Simplified Automation
Category : Linear Motion Components
July 1, 2011
(2) Stepping Motors and Ball Screw Drive
-Ball screws provide good transmission efficiency and utilization of motor efficiency since [1] they directly convert motor's rotary motion into linear motion, and [2] the screw pitch works as a deceleration mechanism.
-[Fig.4] is a drive mechanism with ball bushings and a ball screw drive on the Y-axis, typically used where reduced cycle times and increased positioning accuracy are needed.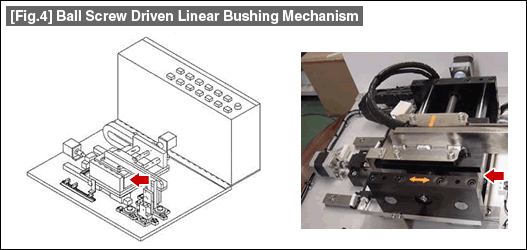 Supplementary Explanation
a) Stepping Motor Characteristics
-Stepping motors generate high torques in low speed (starting/decelerating) ranges, thus suitable for multiple position incremental moves over short distances.
b) Required Motor Accuracy to Achieve Targeted Positioning Accuracy
-When a 10mm lead (10mm/rev.) ball screw is selected for required accuracy of ±0.01mm, the following equation can be used to obtain the required motor accuracy (resolution).

(3) Air Cylinder Drive
-[Fig.5] is an air cylinder driven guide bearing of a clamp mechanism, and [Photo 2] is a magnetically coupled air cylinder mechanism. They both use linear bushings (arrow leader).
-Since the air cylinders cannot be velocity controlled during acceleration and deceleration, shock absorbers are used to reduce the shocks when stopping ([Photo 2]).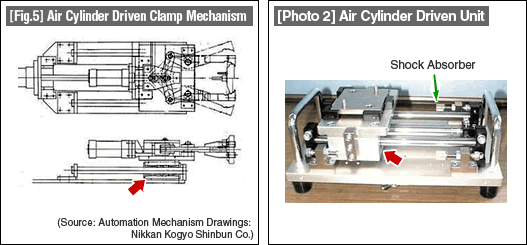 (4) Vertical Guide Example
-For vertical guiding applications, use of flanged linear bushings can achieve compact and simple mechanism without dedicated retaining mechanisms provided. ( require a vertical base plate for guide rails)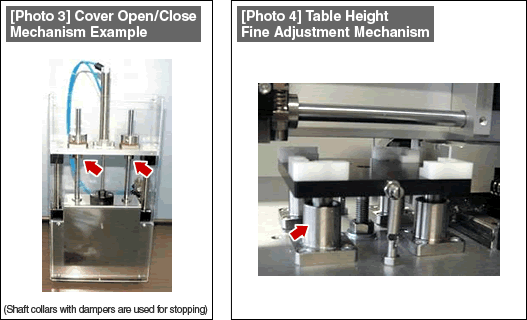 -Flanged linear bushings are also used for elevator mechanisms for transfer conveyors ([Fig.6]) and locating mechanisms ([Fig.7]), similar to the mechanism in [Photo 4].