Low Cost Automation Tutorial
#077 Working with Linear Bushings - 4: Linear Bushing Application Example on Simplified Automation
Category : Linear Motion Components
June17, 2011
Linear bushing characteristics explained so far are reorganized as shown below.
| | |
| --- | --- |
| [1] | Linear bushings are low cost and well balanced linear guide bearings. (Good Cost vs. Performance) |
| [2] | Easy to select actuators for. (Low priced cylinder driven or medium priced motor driven) |
| [3] | Quiet and light drive mechanism can be realized by use of synchronous belts. |
| [4] | For vertical direction guidance, drive center can be placed at guide center enabling simple and compact mechanism structure. |
Usage and characteristics of linear bushings are explained through application examples on simplified automation machinery.
(1) Synchronous belt and stepping motor drive
Synchronous belt drives have various advantages such as quietness, light-weight, low cost, as well as not requiring lubrication maintenance. In 2-axes XY table designs, top Y axis weight is lightened to reduce the load on the bottom X axis. For this, synchronous belt drive is often used for Y-axis design.
a) [Fig.1] shows a typical 3-axes XYZ drive mechanism
Linear guides are used on X-axis, and linear bushings are used on Y and Z axis. For driving, synchronous belts and a ball screw are used.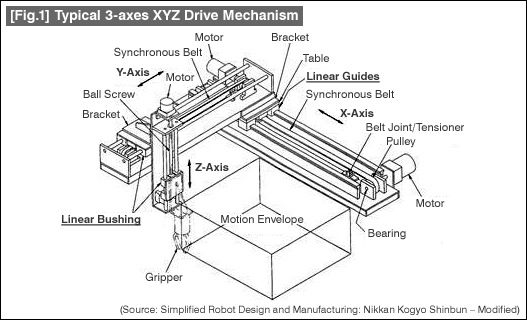 b) [Photo 1] is a IC chip pallet transfer machine Y-axis application example. The Y-axis motion is converted into reciprocation motion with a synchronous belt.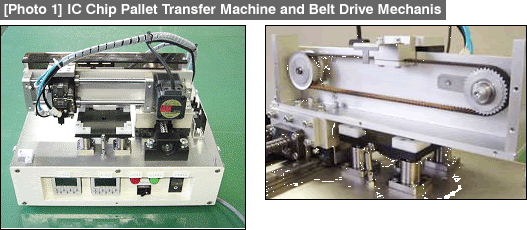 c) [Fig.2] is an application example for a single axis robot with following features.
| | | |
| --- | --- | --- |
| | 1. | Widely spaced dual linear bushing guides for good load capacity and accuracy. |
| | 2. | Traveling pulley arrangement ([Fig.3]) is used for high motor power efficiency and good positioning precision. |
| | 3. | Lightweight and quiet operational characteristics from synchronous belt drive. |
| | 4. | Vertical inline orientation of the shaft and belt prevents the bushings from rotating, even for one shaft structure. |