Low Cost Automation Tutorial
#085 Motion Mechanism Design - 2 : Conveyor Belt Tension Mechanism
Category : Drive mechanism design
September 2, 2011
A tension adjustment mechanism for easy adjustment of belt tension for the work transfer conveyor and its design method are presented here. Since rotation torque is transmitted using friction in a mechanism with a flat belt, the conveyor belt tension, the contact angle between the pulley and the belt, and the friction coefficient are important design parameters. In particular, the belt tension is a factor directly affecting the force of friction, and an inappropriately adjusted belt frequently causes problems, such as meandering. Therefore, the conveyor belt tension adjustment mechanism is a very important system.
(1) Overview of Work Transfer Conveyor Belt Holding Mechanism
The tension of the flat belt is generated by the tensile force from the two barrel-like flat belt pulleys held by bearing holder sets pulled toward both ends (see Photo 1). The design of the mechanism in which tension is placed on the flat belt (conveyor) when the two flat belt pulleys are in parallel is a feature of the conveyor belt tension adjustment mechanism.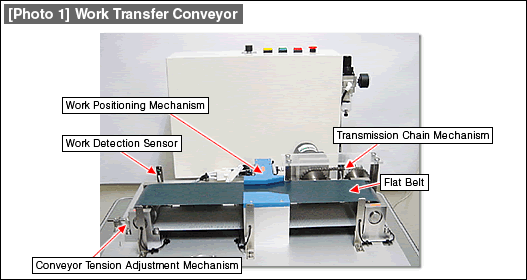 (2) Construction of Conveyor Belt Tension Adjustment Mechanism
Photo 2 is an enlarged view of the conveyor belt tension adjustment mechanism. The unit consists of the flat belt pulleys holding the flat belt and the bearing holder sets mounted on an adjusting plate (roller plate), and the adjustment mechanism positions the belts parallel to the roller plate.
This mechanism is composed of Misumi's FA standard parts (bracket for adjusting screw, adjusting screw, and positioning adjusting screw block).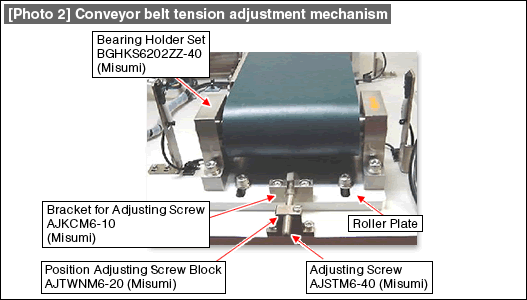 (3) Design of Roller Plate
A reference drawing of a part other than standard parts is shown in Fig. 1.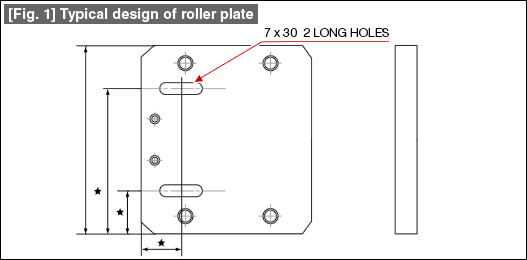 Easy adjustment and maintenance of the assembly are thanks to this construction along with adoption of standard parts for cost reduction.