Low Cost Automation Tutorial
#092 Motion Mechanism Design - 9 : Positioning Pusher Materials
Category : Drive mechanism design
October28, 2011
Positioning pushers are needed with transfer conveyors in order to align and position work-pieces. Especially when the following process utilizes any automation, they are required.
Out-feeding of work-pieces by Pick & Place units.
Automated work-piece inspection with image processing systems.
Processes requiring accurate work-piece positions such as automated soldering stations and resin dispensers.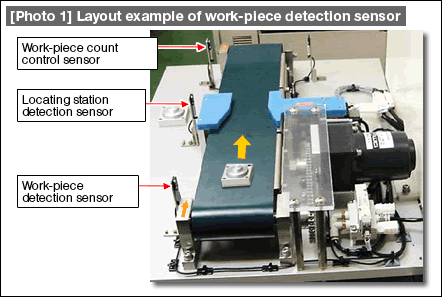 (1) Focus points of positioning pusher material selections
The mechanism example uses an air cylinder (Pico-Table MPPT16-20-RS) to push and align the position of work-pieces on the conveyor.
Lightweight ---- In order to lighten the load on the actuator
Not to inflict scratches or dents on work-pieces.
Wear resistant properties
(2) Positioning pusher material selections and characteristics
The materials used for the mechanism can be largely classified into the following.
Metals ---- Ferrous metals, Aluminum, Copper
Non-metal ---- Plastics, Ceramics
From the selection focus points of (1) above, the plastics are chosen as a candidate, especially with the criteria (1) - 3 engineered plastics are suitable.
When using plastics as parts of mechanisms, the mechanical strengths (tensile and compressive strengths, hardness, toughness) are lower than that of the general ferrous materials used, and the plastic wall thickness must be designed larger.