Low Cost Automation Tutorial
#140 Low Cost Automation and Quality - 3: Automating Molded Platic Product Extraction and Quality Improvements
Category : Design tips
December14, 2012
Explanations on molded platic product extraction automation and quality improvements
-Flowability of molten plastics largely depend on the melting temperature. This melting temperature of the molten plastic is significantly effected by the contact surface temperature of the mold after being injected into the mold.
-The mold has coolant recirculating to maintain within a certain initial temperature range.
-This cooling effect acts as a variation factor of mold temperature drop if molded prodct extraction cycle time and following idle time vary.
-[Fig.1] is an example of manual extraction of molded product, and it shows that the work cycle time is variable.
-Therefore, stablizing each of the work cycle time of the jnjection molding process leads to stablization of the mold temperature, and leads to molding quality stabilization by stablizing the flowability of the molten plastic ([Fig.2][Fig.3]).
-For the automation of molded product extraction/low cost automation, a 2 axis robot and a gripper mechanism are used.
-When automating extraction using low cost automation, MISUMI single axis robot RSH and standard components app. Example: Belt Driven Shuttle Unit ([Fig.5]) can be the application reference.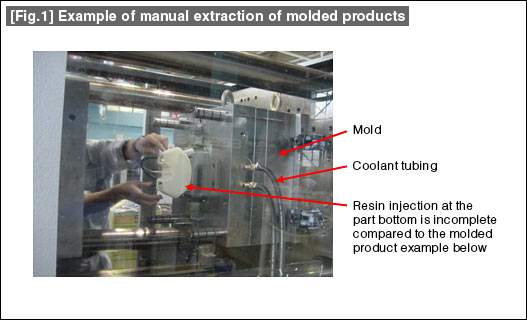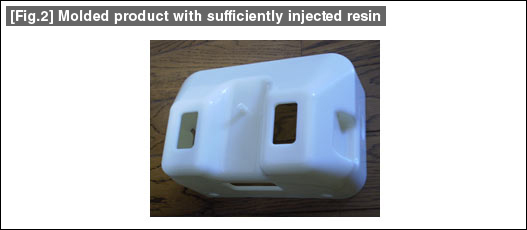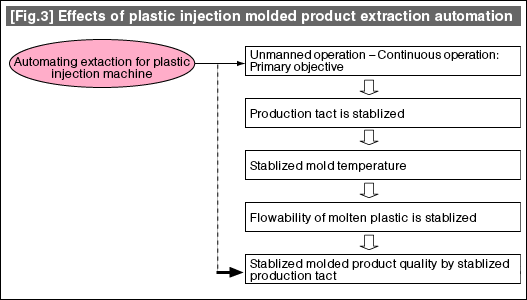 | | |
| --- | --- |
| | (From: Yushin Precision Equipment Co., Ltd.) |