Low Cost Automation Tutorial
#142 Low Cost Automation and Quality - 5: Automation of Press Process and Quality
Category : Design tips
December28, 2012
(1) Automation of press process
When roughly categorizing the automation of press process, it can be expressed as follows.
1) Automating the material to be pressed
2) Automating single-shot press operations (Formation of progressive working)
3) Automating inter-press operation material transfers
1) and 3) since the item (2) requires expertise of press die designer. By automating the 1) and 3), press accuracy (quality), deformation prevention, productivity and safety improvements can be obtained.
(2) Automation of press operation and quality
By automating the items 1) and 3), following quality improvements are obtained.
(1) Reduction in irregular variations of press accuracies by stabilized material feed lengths.
(2) Reduction in deformations on pressed products during transfers between press operations.
The nature of pressed products renders automating difficult due to complex shapes, and burrs. Therefore, it is especially important that the pressed products are to be designed for ease of automation (asymmetrical shape designs, etc.)
(3) Examples of notable points regarding press operation automation
-With automation of material feeding operations, configuration and placement designs of Material Guides are of the importance. The material guides have functions to properly retain and feed the coiled material into dies.
-In general, the height and width of the material guide are properly to be +0.02~+0.03 mm in relation to the coiled material dimensions.
-It is unavoidable that the materials have transfer variation factors such as twists, bows, slit width variations, etc.
-Clearances of guide sections due to material guide parts wear and friction resistance variations due to presence or absence of oil will relate to instability in material feeding.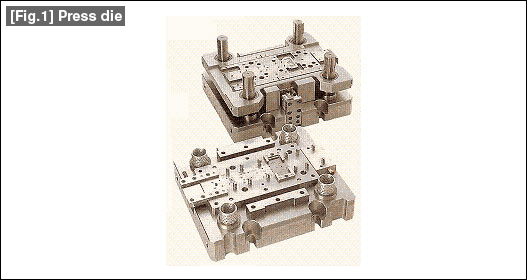 | | |
| --- | --- |
| | (From: Nagumo Seisakusyo Corp. catalog) |