Low Cost Automation Tutorial
#223 Weight Reduction Techniques - 4: Weight Reduction Techniques by Material Substitution - 3
Category : Low-cost automation and materials
February12, 2016
A typical example of material substitution is replacing metal-based materials with plastics. There are many cases where metal parts have been replaced with engineering plastics to reduce weight.
(1)What are Engineering Plastics?
·Engineering plastics are a group of plastic materials that have excellent resistance properties against heat, dust, chemical, weather and flames. Because they can maintain dimensional stability and mechanical properties even at a high temperature, they can be used in structural members. Engineering plastics may be referred to as EPs.
·The most common types of engineering plastics include PC (polycarbonates) and ABS resin (acrylonitrile butadiene styrene copolymer).
(2)Examples of substitution with engineering plastics
·For FA automation parts, engineering plastics have been adopted for retainer parts used to change the direction of ball screw bearings in the circulation zone.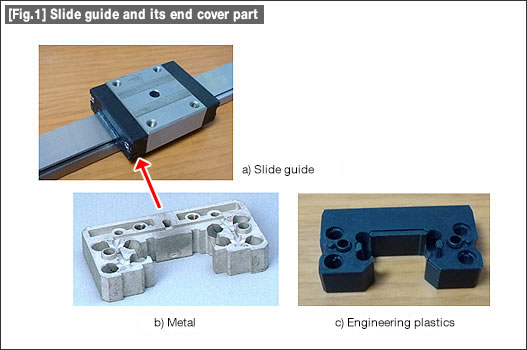 ·Engineering plastics have been adopted for device parts that are frequently exposed to chemicals during processes such as etching and cleaning.
·They are also adopted for parts requiring high accuracy in areas where the temperature changes.
·Other examples of this application include exterior parts requiring lightweight properties, such as replacement lens bodies for digital cameras or high-end models of single-lens reflex cameras.
·Some automobiles have had their glass or body parts replaced with engineering plastics in order to improve fuel efficiency by reducing the vehicle weight.