Low Cost Automation Tutorial
#222 Weight Reduction Techniques - 2: Overview of Weight Reduction Techniques
Category : Low-cost automation and materials
February 5, 2016
Weight-reduction techniques are of particularly necessity for fast-moving machines.
*In the aerospace industry, high-strength and high-reliability materials are extremely important, and there has been a shift towards using CFRP composite materials as a replacement for lightweight metals such as Duralumin.
*The same materials used for airplane bodies are adopted for F1 racing car bodies.
*The arm parts of electronic packing machines and conveyance robots are examples of their use in high-speed drive units.
Weight-reduction techniques by material substitution are applied to the above case examples.
(1)Weight reduction by material substitution
To make a product lightweight by material substitution, the following technical requirements must be satisfied at the same time:

(2)Material design to guarantee strength after material substitution
For material substitution from a metal to a resin, adopt a composite structure in order to reduce weight while achieving the guaranteed strength.
The "CFRP" in CFRP composite materials is an abbreviation of "Carbon Fiber Reinforced Plastics."
Carbonize the fiber and adopt it to the structural member inside the resin. The fiber continuum and adhesive strength of the resin will make the material lightweight and shatter-proof.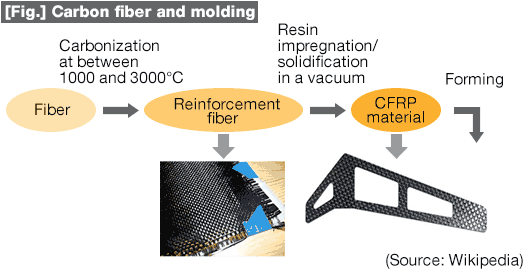 Weight-reduction techniques
Examples of weight-reduction techniques
Development agenda
1) Material substitution
a) Metal → Lightweight metal
Bonding technology
b) Metal → Resin
Strength, reliability, forming technology
c) Metal/others → Composite material
Same as above
2) Shape modification of structural member
d) Lightening, hollow architecture
Strength, noise
e) Shape alteration
Reliability in the load/stress direction