Low Cost Automation Tutorial
#046 Motion Mechanism Design - 16 : Orthogonality of XY Table Assembly - 1
Category : Drive mechanism design
June18, 2010
The LCA example used here is from MISUMI catalog standard component application example:1, transfer mechanism with an XY table. In this example, two single axis units need to be assembled into an X(lower axis) Y(lower axis) unit perpendicularly. The key of cost savings is to start with a design that is inherently easy to perform the final assembly.
The subject of orthogonal mounting of a two-axis unit will be explained in three sessions.
(1) Approach to realizing assembly accuracy
Each component that constitutes an XY table (linear guides, ballscrew, linear bushing/shafts, etc.) has guaranteed straightness built in, but assembling the parts into an XY table requires certain level of orthogonal accuracy. If the design approach is inappropriate, it may not only end up as an expensive system due to much wasted efforts, but with shortcomings such as low reliability and difficulties in maintenance work.
The following is the basic design and production approach.
| | |
| --- | --- |
| 1. | Design with ease of accurate assembly built-in. |
| 2. | Assemble along the intent of 1. |
| 3. | Measure and confirm the accuracy after the assembly. |
(2) What is a design that is easy to obtain accurate assembly? (see [Fig.1])
An adept designer would build-in the required properties (orthogonality in this case) into the design drawings. To do this, the designer needs to visualize the following.
| | |
| --- | --- |
| 1. | Assembly process of the mechanism |
| 2. | Machining of parts related to accuracy |
The designer applies into the drawings the elements that induce accuracy in assembly based on the images 1. and 2.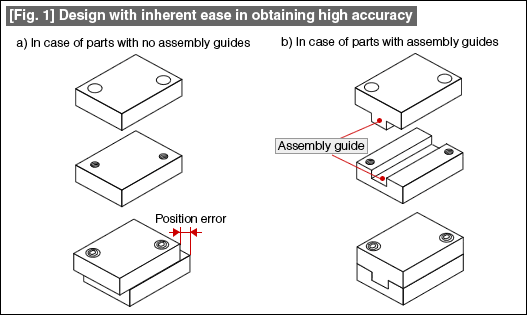 (3) Reason for embedding ease of assembly accuracy into drawings
The parts that require assembled accuracies are produced with machine tools capable of micron level accuracies over the length of the parts. Therefore, the parts can be produced with assembly guides offering built-in accuracies, eliminating needs for highly trained assembling personnel.
(4) How to build-in assembly accuracies into drawings? (see [Fig.2])
By following the concept below.
| | |
| --- | --- |
| 1. | Determine the datum surface based on the assembly work image of (2)-1. |
| 2. | Align the datum sides of all parts based on 1., and build-in the accuracy by specifying on part shapes and dimensions. |
| 3. | Specify appropriate machining methods of parts related to assembly accuracy. |