Low Cost Automation Tutorial
#088 Motion Mechanism Design - 5 : Clamping Devices for Motor Shafts and Sprockets
Category : Drive mechanism design
September30, 2011
| | |
| --- | --- |
| Methods of fastening two coaxial rotating parts (shaft and hub pair: shaft and sprocket, gear, pulley, etc.) include: (1) keyed fastener, (2) screw fastener, and (3) friction locking methods. This section describes an easy-to-lock-and-unlock, reliable friction locking device, the standard Mecha-lock (FACE FA Standard Parts Catalog P993−996: [Photo 1]) | |
(1) Principle of friction locking
The screws of a friction locking device tighten to apply radial force to the outside diameter surface of a shaft and the inside diameter surface of a hub to produce the frictional force that coaxially locks the shaft and the hub.
(2) Structure of Mecha-lock
The Mecha-lock selected for use in the work transfer conveyor is a tapered sleeved MLNP10. (See p. 996 of the catalog and Fig. 1.)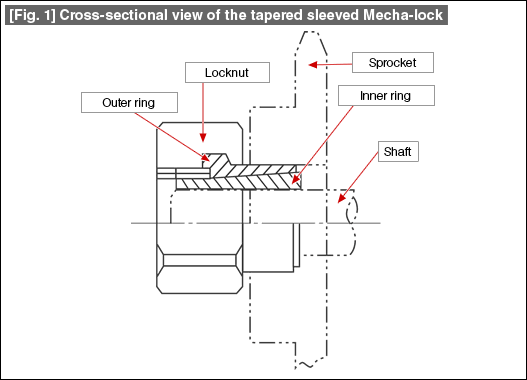 | | |
| --- | --- |
| Tightening the locknuts produced the nominal force by the wedge effects from the outer ring and the inner ring. The frictional force produced by the nominal force locks the motor shaft and the sprocket. | |
Advantages
Disadvantages (remarks)

Easy assembly and disassembly. Reusable an unlimited number of times.
High degree of freedom in relative positioning of two rotating parts as assembled.
No extra machining required on the shaft. Inexpensive and robust.
Tight assembled brings high performance for vibration and impact.
Provides a centering effect.

Shaft outside diameter tolerance of h8 and hub inside diameter tolerance of h8 recommended.
Surface roughness: To be finished to 3.2a or less to stabilize the frictional force.
Tighten the lock screws with a torque wrench to ensure even application of the clamping torque.
Select a Mecha-lock to match the materials of the shaft and the hub (yield stress).