Low Cost Automation Tutorial
#089 Motion Mechanism Design - 6 : Clamping Devices for Motor Shafts and Sprockets (Continued)
Category : Drive mechanism design
October 7, 2011
In addition to the tapered sleeved type introduced in Section 141, there are also single and double conical frictional locking devices Mecha-locks available (see p. 993 and p. 995 of the FACE FA Standard Components Catalog).
This section describes the structures and features of the single and double conical Mecha-locks.
(1) Structure and features of single conical Mecha-lock (MLM, MLMP, and MLHS)
Pushing the pressing flange integrated with the tapered inner ring into the tapered hole of the outer ring by tightly screwing the multiple numbers of locking screws into the threaded holes of the outer ring produces friction between the inner ring and the outer ring. (See Photo 1 and Fig. 1.) The radial component of this frictional force locks the motor shaft and the sprocket. The single conical Mecha-lock fits into narrow spaces but can produce a relatively large radial locking force. The single conical Mecha-lock is used for locking various rotating power transmission elements, including sprockets, gears, and pulleys.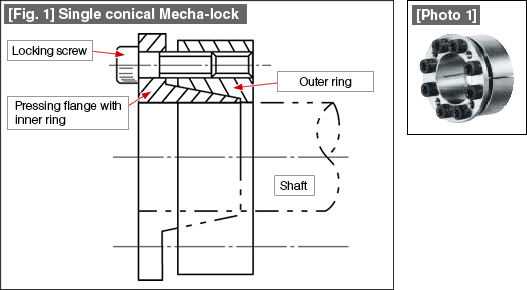 (2) Construction and features of double conical Mecha-lock (MLA and MLAP)
Tightly fastening the multiple sets of the two opposing tapered side rings by setscrews produces friction between the tapered rings and the outer/inner rings, and the radial component of this frictional force locks the shaft and the hub (for example, sprocket). (See Photo 2 and Fig. 2.) The double conical design enables applications that require large torque transmission. This type of Mecha-lock is widely used for clamping flywheels, pulleys, etc.