Low Cost Automation Tutorial
#005 Usage Example of Shafts: Shaft Collar and Shaft Combinations
Category : Linear Motion Components
July31, 2009
The shaft collars are useful in positioning applications for shafts and round posts. An usage example of stop position for shafts is described here.
Example 1 (Fig.1)
Shaft stopper mechanism with shaft collars with integrated dampers is explained.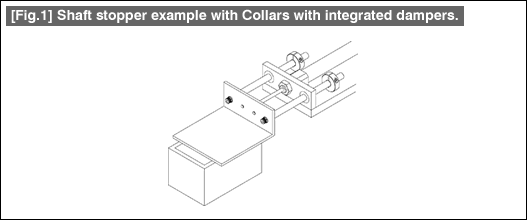 | | | |
| --- | --- | --- |
| | 1. | This example is a two shaft version of the single shaft linear motion system featured in Tutorial #002-b. |
| | 2. | Since this is a cover open/close mechanism, the design does not account for excessive loads on the shafts and bearings. |
| | 3. | The shaft has a pre-machined end needed for mounting: One end female thread type is selected. In order to prevent the mounting bolts from loosening, use flat washers and spring washers. |
| | 4. | Thrust type oil-less short bushing is chosen as linear bearings for intermittent operation. |
| | 5. | Shaft collars with integrated dampers are selected to establish the cover's stop position. In order to provide flat surfaces where the urethane dampers make contact, the oil-less bushings are fixed in place from below. |
| | 6. | Although the moving cover is constricted by two shafts and an air cylinder rod, total of three shafts, the load is designed to be supported by the linear shafts and linear bearings. Use a floating joint to tie the air cylinder rod to the cover to prevent unnecessary loads on the air cylinder. |
| | 7. | The structural material and surface treatment for corrosion prevention selection should be made based on the usage environmental condition, as well as reduction in cover weight for lightening the loads on the sir cylinder. |
Below [Fig.1] and [Photo 1] show the design result following the guideline above.